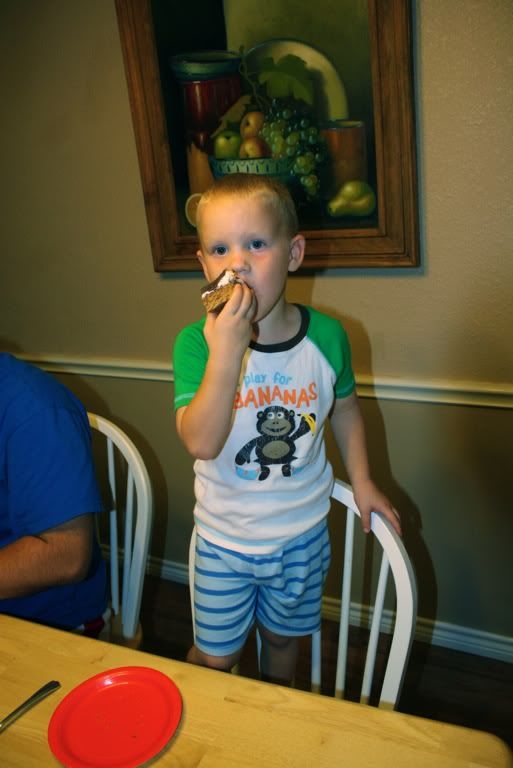 Sadie wanted S'mores for her birthday, so rather than making those and a cake, I made this instead. I didn't take a picture of the actual bars, so you get a picture of Chad enjoying one!
Recipe adapted from:
http://www.cherryteacakes.com/2011/06/smores-bar.html
S'more Bar Base
2 1/2 cups plus 2 tablespoons unbleached all-purpose flour
1 cup dark brown sugar, lightly packed
1 teaspoon baking soda
3/4 teaspoon sea salt
1/2 teaspoon ground cinnamon
7 tablespoons unsalted butter, frozen
1/3 cup honey
5 tablespoons whole milk
2 tablespoons vanilla extract
Preheat the oven to 350°F
Combine the dry ingredients in the bowl of a stand mixer fitted with the paddle attachment. Mix on low to incorporate. Add the butter and mix on low until it resembles course meal.
In a small bowl, whisk together the liquids. Add to the flour mixture and mix on low until the dough barely comes together. Pour the dough out onto plastic wrap and form it into a one inch thick rectangle.
Press the dough into the bottom of a 9x13 casserole dish (that is either oiled or lined with parchment paper.

Bake for 20-25 minutes, until lightly browned and semi firm to the touch. Cooking times will vary greatly depending on thickness, ovens, and pans used. (I baked mine for 20 minutes and it was about a minute or two too long)
Once the bar base is out of the oven, spread 2 jars of marshmallow cream over it. You can warm the cream a little to make it easier to spread, or do it while the graham base is still hot.
Let cool in the freezer for 20 minutes.
S'more Bar Chocolate Glaze
1 package semisweet chocolate chips
1 stick butter
2 1/2 tablespoons light corn syrup
1/2 teaspoon vanilla extract
In a bowl combine chocolate chips, butter and corn syrup. Microwave in 20 second increments on power level 7-8, stirring between each time until smooth. Do not overcook.
Pour over marshmallow layer. Using a spatula spread the chocolate into a thin layer.

Allow to set for a few hours in the fridge. Cut up and enjoy!
Ok, now for what I would do differently next time:
I'll split the graham base into two and put half on bottom and half on top. Or, just halve the recipe and use it on the bottom only. In any case, as written, it was too thick of a base. I made my chocolate glaze with milk chocolate chips (since the Hersheys bar you would use in a s'mores bar are milk chocolate), but with the added corn syrup, I think it would be better to use the semisweet chips. Another thought I had was to use chocolate frosting instead. I'm all about making things easier on myself!