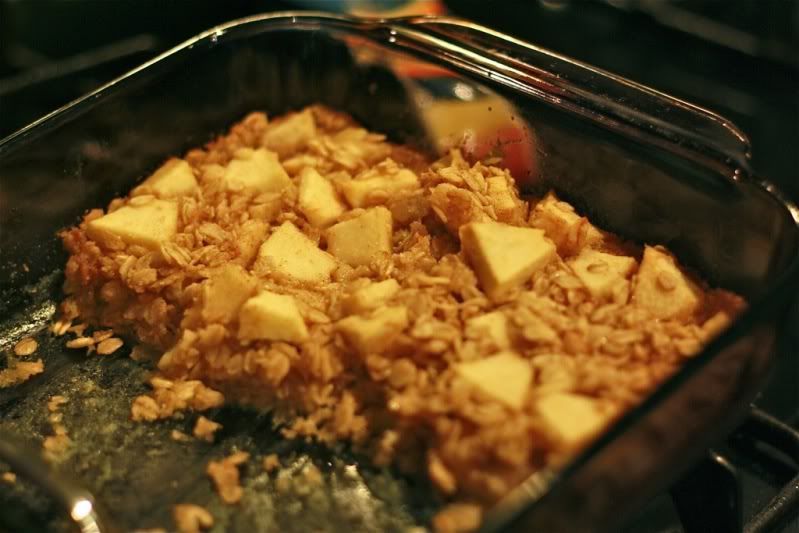 I got this recipe from my friend, Tia, and finally tried it today. It was super yummy, and the kids loved it! I tweaked her original recipe just a bit...
Baked Oatmeal
3 cups quick-cooking oats (I used regular rolled and it worked fine)
3/4 cup sugar
2 teaspoons baking powder
1 teaspoon salt

1 cup milk
1/2 cup butter, melted
2 eggs
1 teaspoon vanilla extract
Whatever yummy ingredient(s) you want to put in it (raisins, dried fruits, fresh fruits, chocolate chips, etc.)
My "yummy ingredients" were (all mixed together):
4 apples, peeled, cored and diced
1/4 cup sugar
1 tbsp cinnamon
1 tbsp flour
1/4 cup Pear Cider from Trader Joe's (though you could use apple juice or anything else. This helps keep the apples from drying out).
Preheat oven to 375. Mix all dry ingredients together. Mix milk, butter, eggs and vanilla together and add to dry ingredients. Stir until just incoprorated. Pour into a greased 9x13" pan, and bake for 25-30 minutes.
If you don't end up doing the apples with cinnamon, etc, I would suggest adding some cinnamon to the oatmeal mixture to help it taste a little less bland :)