Ingredients:
Chicken breast (I pound mine out a little)
Pecans - I put mine in the food processor to make them the consistency of bread crumbs)
Olive Oil
2 eggs
1 can whole berry cranberry sauce
1/4-1/2 bag of frozen raspberries
Splash of white wine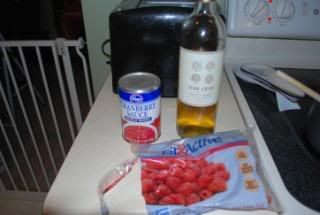 1- Scramble the eggs in a bowl.
2- Dip chicken in the eggs.
3- Coat in crushed pecans.
4- Cook in pan with oil oil.
Sauce:
Put can of whole cranberry sauce, raspberries, and wine in a pan. Bring to a simmer.
Spoon sauce over chicken: